8 tips to start running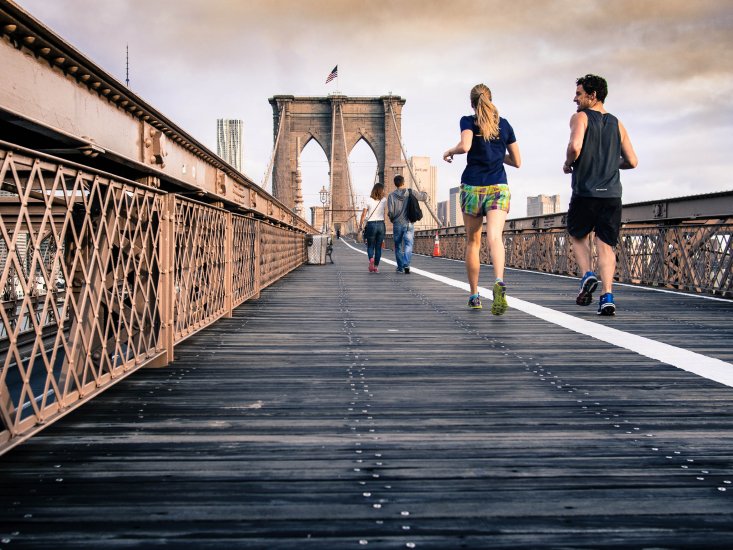 8 Tips from the experts to get started in running safely and in a funky way
It is increasingly common to find runners on our streets, running is part of a healthy lifestyle that is increasingly practiced by more people. But is it really so available to anyone? It may seem so, but for the starting runner a lot of doubts and concerns arise: is it good to run on asphalt? How should the shoes be? What is the appropriate and safe distance to start with? With this post we intend to help all those who are about to start the adventure of practicing running in the open air to improve their health and face a new, more active and healthy way of life. Here are some basic tips for your running training.
1. ENJOY: SPORTS ARE GREATER WHEN YOU HAVE FUN
It is common for many beginning practitioners to look at the performance and marks of their more experienced "fellow travelers," but do not rush or demand more from our bodies than it is prepared to give. The great victory has already been achieved: dedicate a few minutes to our health. It is best to offer our body a positive experience, not a strenuous session. If you go out with more colleagues with different fitness levels, it is best to find a closed circuit, where you can meet everyone at the end of the training session and share feelings.
2. EL EQUIPO: NO ES MEJOR LO MÁS CARO, SINO LO MÁS CÓMODO.
Otra gran preocupación es la necesidad de equiparse para realizar ejercicio. No te dejes llevar por la moda, ni te gastes el dinero en la "mejor" zapatilla del mercado, puesto que no existe. La mejor zapatilla es la que se ajusta a tus necesidades. Tipo de pisada, terreno por el que vas a correr, tiempo que vas a dedicarle a tu nuevo hobby, ritmos de carrera, clima…etc. determinaran la elección de tu zapatilla. Déjate asesorar por personal especializada para acertar de pleno. Lo mismo ocurre con el resto del equipo, camisetas, pantalón o malla, cortavientos, calcetines, compresivos…evita todo aquello que sea excesivamente técnico, dirigido a corredores más avanzados. Equípate con lo mínimo para iniciarte en el entrenamiento de running, a medida que tus hábitos se instauren, progresarás en tus necesidades, no necesitas desembolsar grandes sumas de dinero, lo importante al principio es focalizarse en adquirir el hábito de entrenar.
2. THE EQUIPMENT: THE MOST EXPENSIVE IS NOT BETTER, BUT THE MOST COMFORTABLE
Although running is a natural activity and everyone "knows" how to do it, knowing the initial dose of effort, and what is the progression pattern for each case, is not so easy for people who are introduced to the subject. The best thing is that you seek specialized personnel to guide you in the first steps, even one or two sessions of running technique may be recommended to avoid future problems.
4. COMPLEMENT WITH OTHER ACTIVITIES: TO RUN, YOU DO NOT JUST RUN
Running, especially in the early stages, is a strength activity. In a first phase our muscles must adapt to withstand the repeated impact of the race. For this, it is interesting in the first sessions, to complement the running session with a specific strength training to improve more quickly. It is also important to perform stretching exercises to improve the flexibility of the joints of our lower body so that our tissues are able to better absorb the impacts of the race. Do not do them at the end of the session, it is best to do them at least 24 hours after the race session.
5. GET HYDRATED
The practice of exercise requires that our body is adequately hydrated. The risks of tendon and muscle injuries increase if we are dehydrated, it is advisable not to wait for thirst to appear, since, in that case, dehydration has already begun, that is, at that moment our body warns us that it has less water than you need to work properly.
6. REST PROPERLY
Training more is not better. It is common to start training every day. It is convenient to know that exercising is an attack on our body that reacts to adapt to this situation. The benign thing about this aggression is that we can control the dose and its frequency. It is just as or more important to let the body assimilate that effort as to properly prepare the amount of exercise that we will do in each session. Dedicating many days of training when we begin to practice can impair adherence to exercise, in addition to being counterproductive to our health. As our body needs more training load we can add more duration, intensity or frequency to the sessions.
7. LOOK FOR COMPANY: NOTHING MOTIVATES MORE THAN PRESSURE FROM THE GROUP
Preparing a challenge is more pleasant if it is done accompanied by friends or fellow fans. They are, at the same time, a support network in case of discouragement, difficulties or doubts, they help us to pose new challenges and to be more constant in practice.
8. IF YOU CAN'T RUN, WALK
There is no failure, only percentages of achievement. If you do not finish the race running, walk, you do not compete against anyone except against inactivity. Today's difficulties are tomorrow's satisfactions, don't be afraid to be the last. You do sports to stay healthy, don't lose your health by doing sports. So cheer up! Are you coming to run?